#1
I'm thankful I've found a video of the Japanese version of
Amazing Grace
at
YouTube
, so that I can share this with you. I'm thankful for the person who has created this.
We are going to sing this song at the concert in 10 days, and we are practicing it every Sunday.

#2
I'm thankful for
Lizzi R
,

Debbie Huffaker

, and

Dyanne @ I Want Backsies

, who said in their comments last week that they would like to listen to Amazing Grace sung in Japanese. Having found the video above, I've been inspired to write a series of posts about the Japanese version of this song, and I've written the first post with the lyrics transcribed in the English alphabet. I'm going to write more about each stanza next week.
#3
I'm thankful for my father, who cooked curry and rice for lunch on Sunday.
#4
I'm thankful for the quail eggs that I have had for the first time in years. I was not sure how long the small eggs be boiled, so I searched for a recipe on the Internet. -- Put the eggs and water in a pot, and bring to a boil. Boil for two minutes. Remove from heat. Let stand for two minutes. Drain, and put the eggs in cold water. Shell the eggs. -- They tasted good.

#5
I'm thankful for the new bitter melon in our humble garden, which I've found quite unexpectedly. It is just outside the window on the second floor. The vine has got entangled in the window screen, so we can't open it until the fruit is harvested... Thinking that the plants were withering, we had planned to remove the vines earlier this week. I'm glad that we have somehow procrastinated.
#6
I'm thankful for Noriko, who has lent me a beautiful book on Hawaiian quilting. The book makes me feel like starting a new sewing project.
#7
I'm thankful for the new music book which has a number of chorale variations for the organ. I've started practicing some of the pieces.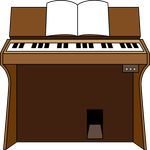 #8
I'm thankful for J. S. Bach, who created so many beautiful pieces of music. I'm thankful that I was born after he composed all these magnificent works and that I live in the time when I can listen to them on CDs, on the radio, and through the Internet at home.
#9
I'm thankful for the time I spent helping a lady from the Philippines to learn to read in Japanese at the municipal International Affairs Department on Friday.
#10
I'm thankful for the uneventful, peaceful week I've been enjoying.