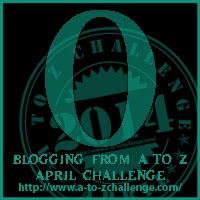 Oso Bonito,

an

amigurumi

that Romi has crocheted, ponders on the uniqueness of himself.
During
Blogging from A to Z Challenge
, we have been writing about Romi and some of the teddy bears she has made.
Her teddies don't look like expensive antique collectibles many people admire. Most of us are made out of reused materials such as old clothes, used buttons, and leftover yarns.

Some of her bears already looked antique the moment they were born. Our faces tend to be asymmetrical, and the stitches are uneven.
I often wonder what makes Romi's teddy bears so special.
We are special, because each of us is one of a kind. Romi has made most of her teddies according to the patterns found in a Japanese book, Watashino Teddy Bears (ISBN: 4-529-02283-8.) She has used the same pattern again and again for making a number of bears, but we look different from one another. She sometimes uses exactly the same pattern and materials to make more than one bear, but none of them are exactly identical. -- I guess that is why Romi will never become a professional teddy bear artist.
I'll tell you something interesting about myself, Oso Bonito. I am an
amigurumi
bear based on the pattern in pages 62--63 of the book mentioned above. It is a pattern for a knitted bear. The fact is that Romi didn't know how to knit when she made me. She did know, however, how to crochet. So she translated the knitting pattern into a crocheting one. Instead of knitting and purling, she made single stitches using a crocheting needle. As a result, I am much bigger and heavier than the model in the book.
Soon after I was born, I was adopted by a friend of Romi's. I am glad that I can help my 'mom' with her blogging challenge now.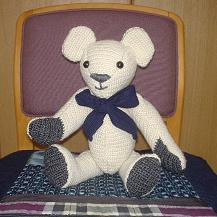 Oso Bonito