I'm thankful for the open air market held near the city hall last weekend. There were dozens of stalls where local specialties were sold. I'm thankful for the thick fried tofu, the fried fish, the rice crackers, the blackberry ice cream and the dried red peppers I got there.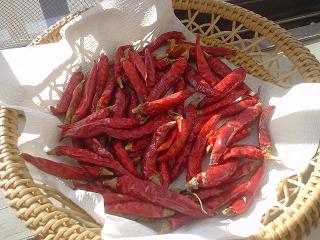 At the market, there were also free workshops where visitors could take part in craft activities, and that was the main reason why I went there. I participated in three of them: creating a vase out of bamboo, making a candle using a seashell, and learning how to copy an inscription on a stone on a sheet of paper. I'm thankful for the volunteer teachers from various parts of the city, who helped us enjoy these activities.

This is the vase I made at the first workshop. I've put a flower from our garden in it and placed it in the alcove.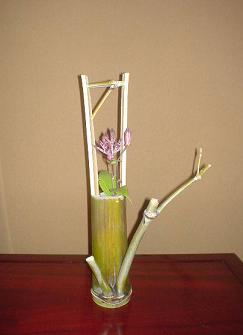 The fact is that the teacher did most of the work for me. All I did was choose the bamboo tube I liked, make a design, and help the teacher cut the bamboo.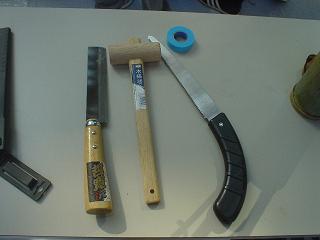 the tools used for making the vase
It was easy to make a candle using a seashell in the second workshop. First, choose the seashell and the color of the candle. Next, pour some melted wax into the shell, and put the wick in it. Then wait until the wax sets.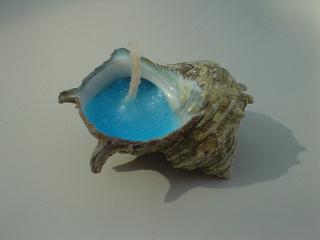 In the third workshop, they taught us how to copy inscriptions on stone monuments on sheets of paper. (These copies are called takuhon in Japanese, and the teachers are member of the local Takuhon Club. I hadn't known that there is a club specializing in making copies of the calligraphy inscribed on monuments.)
Since they couldn't bring the actual monument to the workshop, they had a copy of part of the original monument standing at the site of a feudal-era castle, and we practiced making copies of the copy.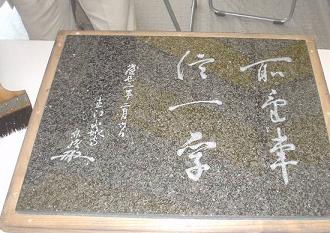 the inscription on the stone
The inscription can be roughly translated as "The only thing I hope for is trust." The smaller letters on the left indicates the date (February 6, 1597), the name of the author (Naoe Kanetsugu), and his signature.
This is how we make a takuhon. First, put a sheet of paper on the stone. Second, spray some water on the paper and make the paper stick to the stone using a brush. Third, absorb excess moisture with a towel. Then dab the paper with inked cloth carefully, until the inscriptions appear on the paper. Remove the paper from the stone, and dry it thoroughly.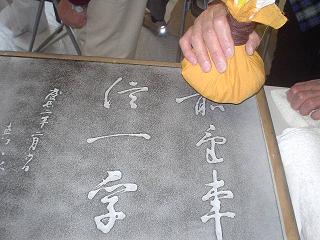 dabbing the paper with inked cloth
Some people put a takuhon copy in a frame, and hang it on the wall as an ornament.
I'm really thankful for the wonderful time I had at the open air market on a beautiful day in autumn.