#1
I am thankful for my father, who cooked chow mein for lunch last Sunday. I was so hungry that I didn't take a picture of it before lunch... It had some pork, egg plant, cabbage, and onion in it, and it was delicious!
#2
I am thankful that I have been trying to memorize John 15 this summer. This week's memory verse is John 15: 11-12.
These things I have spoken to you, that My joy may remain in you, and that your joy may be full. This is My commandment, that you love one another as I have loved you.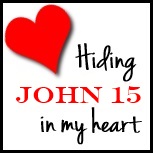 #3
#4
I am thankful that I have got a dental checkup this week, and that we have found that there is nothing wrong in my mouth. Moreover, the city government is paying for the checkup this year, and it cost me nothing at all.
#5
I am thankful for
Josie
, who wrote about
Bloglovin'
last week. I have signed up for it, and found it very useful.


#6
On Wednesday I went to the art exhibition held at the city library, featuring
Genbaku no Zu
(
The Hiroshima Panels
) painted by the couple Maruki Iri and Maruki Toshi. They depict people killed and injured by the atomic bomb that was dropped in Hiroshima on August 6, 1945. You can take a glimpse of these paintings
here.
Though the theme of the exhibition may not make us feel happy and thankful, I am thankful that our city is hosting this event, so that we can learn how destructive nuclear weapons are, what tremendous sufferings they have caused, and how important it is for us to make efforts to prevent war. I would like people all over the world to see these paintings. As for the exhibition at our city library, which lasts until August 10, admission is free.
#7
I am thankful for the city libraries that have so many books. Our city has nine libraries, and the largest one is about a thirty minutes' walk from my house. There is another one, which is about a twenty minutes' walk. I usually go to the closest one. We can 'order' books we want through the Internet, and have them delivered to the closest library. I have borrowed two books this week, and I am looking forward to reading them.
#9
I am thankful that I have registered as a volunteer worker at the municipal International Center, where we help international residents in our city learn the Japanese language. I am going to work there twice a month. I went there for the first time on Friday, and observed two of the experienced workers teaching their students basic Japanese. One of the students was from a Spanish-speaking country, and she was studying how to spell hiragana syllabary. Another student was from Korea, and she was studying grammar and dialogues using a textbook provided by the International Center.
I am looking forward to working there.

#10
I am thankful that I attended the English seminar held at the Bible Institute by the Sea of Japan today. The seminar itself is four days long, and I took part in it for only one day. I had a very good time practicing speaking in English with wonderful people visiting the institute from the United States. I am especially thankful for Walt, who taught our class.